Artist Statement
As far back as I can remember I have always explored with different types of art, winning my first blue ribbon in ceramics when I was eight years old. Over the years I have worked with many different mediums, including ceramics, wood, airbrushing, oils, air dry clay, papier-mâché and acrylics.
Sculpting is something I am passionate about, and love sculpting over found items, gourds or anything my clay will adhere to. All of my designs and ideas are based on inspirations that I receive from my parents that have passed. I have very vivid dreams about new ideas and I know that my Mom and Dad are sending them to me.
I have been selling my one of a kind art since 1983 out of my home in Plain City, Utah and at several quality arts and crafts shows throughout the year.
I work primarily with air dry clay, papier-mâché, acrylics, gourds and vintage items. Each gourd is grown, dried, cleaned and then sculpted. After the sculpting is dried I sand the gourd and paint it with acrylics and chalks. The gourds are then antiqued and given several coats of polyethylene for durability. Each gourd is then embellished with pieces of vintage jewelry or other vintage items.
I also find old items that I recycle like bread boxes, coffee pots, salt and pepper mills, etc. and bring them back to life by either painting on them or sculpting on them. The same techniques that I use on my gourds are used on my recycled items.
It's a lot of work, but each piece has it's own individual character - one that will hopefully bring a smile to your face for many years to come.
-Janae Matue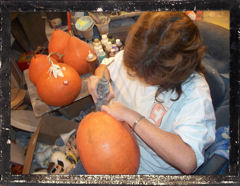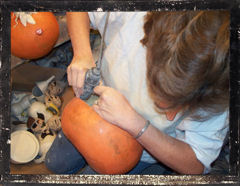 © 2011 Country Hollow Crafts, all rights reserved. Site designed and maintained by The Country Hollow.